Having straight, aligned teeth is not just crucial for oral health; it can also significantly impact one's professional success. A confident smile can make a lasting first impression and improve communication skills in the workplace.
Fortunately, with Clear aligners , achieving a straighter smile has become easier than ever before. It can help boost confidence and improve overall appearance, leading to tremendous success in professional settings.
The Power of a Confident Smile
A confident smile is a powerful tool in the world of professional success. Not only does it create a positive first impression, but it also enhances communication skills and builds rapport with colleagues, clients, and customers. A smile is often the first thing people notice, and it can leave a lasting impact. So, it's no wonder having a straight and aligned smile is essential for creating a positive image and instilling confidence.
With invisible braces or clear aligners, your smile can transform, and so can your confidence. These modern solutions for teeth alignment are An inconspicuous and comfortable alternative to conventional braces. Clear aligners provide a customized and nearly invisible solution to straighten teeth discreetly, as they are designed to fit your teeth perfectly without attracting unwanted attention.
But the benefits of clear aligners go beyond their aesthetic advantages. With a straight and aligned smile, you'll feel more confident and self-assured in professional settings, making it easier to communicate and succeed. Studies have shown that people who smile more often are perceived as more confident and booming.
So, if you want to enhance your professional success, clear aligners may be the solution you've been waiting for.
Introducing Clear Aligners
Clear aligners offer a contemporary and successful method for achieving straight teeth and a confident smile. These invisible braces are a popular choice in cosmetic dentistry due to their convenience and effectiveness in addressing various dental issues. If you want to improve your smile and boost your confidence, clear aligners might be the right choice.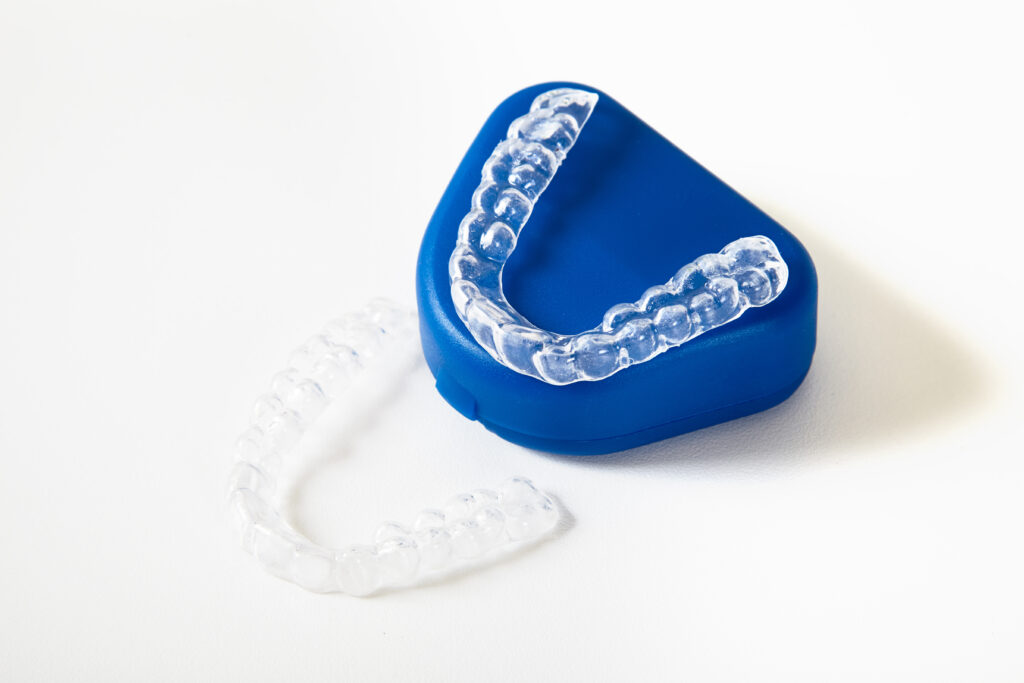 How do Clear Aligners Work?
Clear aligners are custom-made, transparent plastic aligners designed to fit over your teeth, shifting them into the desired position over time. Unlike traditional braces, clear aligners are removable, making eating and oral hygiene a breeze.
During treatment, you will be given a set of aligners, which you will change every two weeks. With each new set of aligners, your teeth will gradually move toward the desired position until the completion of the treatment process. The duration of your treatment may differ depending on the severity of your dental concerns and your adherence to wearing the aligners as directed.
Advantages of Clear Aligners
Improved Aesthetics: Clear aligners are virtually invisible, making them ideal for individuals who want to straighten their teeth without the noticeable appearance of traditional braces.
Increased Self-Confidence: With a straight and aligned smile, you will feel more confident professionally and socially.
Enhanced Oral Hygiene: Clear aligners can be easily removed during meals and brushing, allowing for proper oral hygiene practices and minimizing the chances of gum disease and tooth decay.
Convenience: Clear aligners offer the advantage of no food restrictions, allowing you to gobble your favorite foods. Additionally, they provide freedom during sports and activities, as there is no risk of braces breaking or causing injury.
The Clear Aligner Process
Once you have decided to proceed with clear aligners, the dentist will create a customized treatment plan tailored to your unique smile. Your teeth will be carefully examined, and detailed impressions will be taken to create a series of clear aligners using advanced technology. These aligners will be worn for a specified period to achieve the desired results.
The best part? Clear aligners are virtually invisible, meaning you can straighten your teeth without anyone knowing.
The Results
With clear aligners, you can expect to see a gradual improvement in your teeth alignment and overall oral health. The removable nature of aligners facilitates the maintenance of good oral hygiene habits, including regular brushing and flossing, as they can be quickly removed for thorough cleaning.
By prioritizing your smile and investing in clear aligners, you can boost your self-confidence and set yourself up for professional success. Don't wait any longer – schedule your consultation with the best dental hospital in Gujarat, today!
Why Choose Summirow Dental Hospital in Gujarat?
At Summirow Dental Hospital in Surat, we are dedicated to providing exceptional dental care. With a focus on patient satisfaction, we offer high-quality services using the latest advancements in dental technology. At our dental practice, our experienced dentists specialize in cosmetic dentistry and are dedicated to assisting you in attaining the smile you desire using clear aligners.
Our staff is friendly and knowledgeable. They will support you from consultation to treatment completion. You can count on their continuous guidance and assistance. Trust Summirow Dental Hospital for personalized and effective dental solutions in Surat.
Get Started Today!
Now that you know the benefits of clear aligners in achieving professional success and boosting your confidence, it's time to take action! Start your journey towards a straighter, more aligned smile by scheduling a consultation with our expert dentists.
Our team will assess your teeth during your consultation and discuss the best clear aligner options for your specific needs. We will also provide you with an estimated timeline for your treatment and answer any questions you may have.
Experience the difference at Summirow Dental Hospital in Gujarat, where your smile is our top priority. Contact us today to schedule your consultation and take the first step towards a confident and booming smile.